By Alan Rodgers
FAST-FORWARD for a moment to the 2030 All-Ireland Hurling final day at Croke Park.
It's coming up to 3pm as Tyrone's Christy Ring Cup final is reaching a critical stage before a growing attendance of over 50,000.
Sitting in the Cusack Stand with a certain twinge of mixed emotions is Mattie Lennon. The Derrynoose native should be able to sit back, content that his vision for the future progression of our national game has finally been recognised.
But, instead, this closely-contested decider is keeping him and everyone else enthralled as they prepare for the Liam McCarthy Cup decider to follow.
Of course, whether that vision of 10 years hence is realised or not remains to be seen. But, as he gets set to prepare for the big championship challenges to follow in this coronavirus year of 2020, Lennon is even more determined than ever to voice his strong view that a new direction is required.
His vision is for the counties in the lower tiers to be given regular opportunities for summer hurling and to play their finals before the big games in Croke Park.
Put simply, the development of hurling in Ulster and the lower-tier counties appears to be stalling. It could well be said that they are in a perennial cycle of struggle, with the occasional glimmer of hope extinguished by the traditional obstacles to real progress.
Something different is needed and Lennon is under no doubts about what would represent an important first step. He has weighed positively into the recent debate about whether there should be a combined Ulster team, but says that even more radical proposals than that should be given an opportunity.
Like playing the Christy Ring, Nicky Rackard and Lory Meagher finals before the major All-Ireland semi-finals and finals in Croke Park. Like giving young hurlers in Tyrone, Armagh, Donegal, Monaghan and elsewhere, the incentive to dream about one day displaying their skills on the biggest stage of all and before the largest crowds. Maybe he's a dreamer, but Lennon's vision is one that many will see as being worthy of pursuing.
"One of the big issues that I continue to have is the fact that counties like Tyrone, Armagh and Donegal play so little summer hurling," he said.
"We might only have a small number of training sessions on the right surface, when the ball is moving faster, and the sooner that our players are playing competitively in July, August and September then they can make the right progress.
"Everyone talks about why there isn't progress being made. Well, give us games at the time of year when we should be playing hurling and see how it will develop. There is a huge difference in the speed of the game between January and February and then the summer months.
"Games are needed in good conditions and at a higher level to bring players on in terms of their skills and the intensity which they are capable of reaching. If they got that year after year, then the standard would definitely improve.
"But unfortunately, everyone is gone by the end of May and we're being denied hurling in the conditions when the game should be played."
Summer hurling is one issue. Another equally important one is that whole aspect of profile.
In 2005, following the introduction of the Christy Ring and Nicky Rackard competitions, the finals took place before the All-Ireland Senior quarter-finals and semi-finals.
It put the talents of teams like Armagh on a pedestal as highlights packages for the TV showcased their strengths and provided indications of areas needing improvement. For some reason, though, the schedule was radically changed in subsequent seasons, leaving the finalists to battle out for the titles at a near deserted Croke Park on a Saturday afternoon.
The fact that the competitions were done and dusted by the end of May meant that counties who experienced the thrill of their success had to wait until the cold and wet of the following January before being able to build on that momentum. It's a no-win situation, according to Lennon who knows all about the challenges involved having managed Armagh, Monaghan and Tyrone during the past two decades.
"Sean Kelly, the then President, introduced these competitions with the stipulated aim of playing the finals before big games to have them televised, analysed and commentated upon like the Liam McCarthy," he recalls.
"In 2007, I was managing Armagh and we played in the Nicky Rackard final prior to Derry against Dublin in an All-Ireland Football quarter-final.
"Now there was a huge crowd came in during the second half. Unfortunately, all of a sudden, that was all streamlined down and we're left with one Saturday afternoon in Croke Park where there might at most be an attendance of 1000 or 2000.
"At best, the result might be shown on the TV with a few of the main scores and I know this lack of profile affects younger players. For them, the profile isn't there and we're losing good hurlers because of that.
"I have managed Monaghan, Armagh and Tyrone and the same issues are always arising. We need an avenue to showcase the skills of the players from these and other counties. It's not happening and one day in June isn't doing their commitment justice.
"People talk about developing hurling in Ulster and one thing to do is to ensure that young players can aspire to playing at a higher level, to aspire to going to Croke Park before a Leinster final or an All-Ireland game. It would generate great interest and that would be a massive thing.
"Ulster hurling at the moment is standing still, the Ulster Championship was done away with in 2017 and we were laughingly told there was no date for it to be slotted in. Now it has been completely forgotten about and I think that's what people wanted.
"There's another avenue for teams who wouldn't normally be playing in the summer time. Then, the inter-provincials were removed, and with them another chance for young lads to play with and against the top players.
"I think there's some people who are glad to have seen these things stopped, but our young hurlers aren't stupid and are asking why they should put all the time and effort in when there's no roadmap for them to play at that level."
Firm statistics as to exactly how many might not have ended their involvement aren't available and would perhaps be impossible to accurately compile. However, it hardly matters because the point remains the same and is very relevant.
Lennon's belief in having a Team Ulster is partially increased by his experience with an Ulster Colleges combined team of a few years ago, which competed effectively against schools from the top counties.
He believes, though, that the situation can be improved, but only if the avenues are there and young players can dream about playing in Croke Park before 80,000 before the Liam McCarthy final.
"People keep knocking ideas such as the Team Ulster. My message to them is to come up with a better idea. It has never been tried at adult level, but it was successful at underage level.
"In Dublin a combined college team was fielded and eventually won the Leinster title. Here in Ulster, if Antrim want to remain on their own, then that's fine, but there are still eight other counties who could benefit.
"There are counties all across Ulster who could benefit. Maybe after the Nicky Rackard they could go into the Team Ulster in a Leinster Championship. What's wrong with trying this? Too many people are quite happy to let the status quo remain as it is. But by doing that we're not moving forward and if we're not moving forward then we're going backwards by definition.
"Underage hurling is being developed and it's easy to get u-14 and u-16s out to play. But at minor level, younger people start to wonder what the benefits are and I'd love to get a survey done of why those talented players stop at 17 or 18 years of age.
"Maybe if there was an opportunity to play before these bigger games the question has to be asked if they would still be involved. We have to do something because what we're doing at the moment isn't working.
"I can think of players in every one of the counties in Ulster who would compete for a place on a Team Ulster squad at least. The amount of hurling that is played outside Antrim is small. There's maybe half a dozen clubs at adult level in the rest, so the argument about fitting games into the schedule is a red herring in my view."
Recent experience in the past few decades has shown what could be achieved. Attendances at the Ulster Club Hurling Finals have been consistently high this past decade, Slaughtneil's All-Ireland Club semi-final last year against Ballyhale captured the imagination, as did the last few Ulster finals, most notably when Armagh qualified for the decider.
The onus to promote hurling is, of course, on the administrators. Lennon believes that Ulster GAA have to take a lead in the promotion of the game in a new way, and the return of the Ulster Championship is top of his list of priorities.
He maintains that it will take a visionary approach for the game to develop in Ulster and says the province needs action to ensure that the future for players in the key age-group of 17-20 is bright.
Perhaps, then, when that All-Ireland Final of 2030 does come around, they will be the ones making the decisive contributions at a packed Croke Park. By then, Mattie Lennon's dream really will have become a reality.
comment@gaeliclife.com
Receive quality journalism wherever you are, on any device. Keep up to date from the comfort of your own home with a digital subscription.
Any time | Any place | Anywhere
Posted: 11:54 am June 28, 2020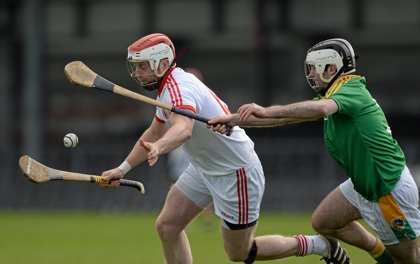 Tyrone player Sean Og Grogan is concerned that Tyrone aren't going to build on the work done by Mattie...