ST MICHAEL'S player Martin McElhinney said that last year's championship was the most enjoyable, and the only change he'd make would be that there were a few more games.
Last week, club players throughout the county were asked to give their opinion on how they want the season to be run. Players sent their answers in and the results will be revealed.
The poll that the county board undertook asked players if they wanted this year's system to be a straight knockout, groups of four, or a league system the way it was last year.
McElhinney says that he hopes they keep the system that was used in 2020.
"I was delighted to get football last year because it wasn't looking good at the start. The season last year ran very smoothly. The championship played back-to-back was brilliant because it was games played week in and week out. I really enjoyed it. I thought that because the season was short it allowed the players to have a bit of a life outside as well. Normally, it could be drawn out all year. That is one thing that has come out of Covid was that a condensed season is far better for both (club and county)."
There is no management in St Michael's  yet. They have a strength and conditioning coach who sends out work for them to do each week.
"Boys are out doing work on their own. You have to do work because it will be a fast start when the season gets going.
"It is frustrating at the moment because we have no one in charge."
St Michael's were managed by Gary O'Neill last year, but after two  seasons in charge he was offered a job of managing Pomeroy in Tyrone which is in his own county. So he took up that role and ever since St Michael's have been searching for a replacement. While it is frustrating for the players, they do feel that they have a bit of time to find someone.
McElhinney said: "There is so much uncertainty because we don't know if there will be any football.
"Some people are in the mind that there won't be any football till July or August. If we knew when the season was going to be starting soon there would be a panic on. But it is probably going to be later.
"It would be good if we had someone in there who could take authority that would be better. Hopefully it won't be long till they sort someone. They are in the process of trying to appoint someone."
St Michael's are a team that has an older make up. Seasoned campaigners like Christy Toye, Colm McFadden and McElhinney himself had long careers with the county. They have since retired but are still forging on with the club.
McElhinney said: "A lot of our players are in the over 30s bracket. We are trying to stay in Division One and trying to get the new players through as soon as possible. We are trying to get them broken into senior football and stay there.
"That's important. It is easier to stay in Division One than it is to get back up into it if you drop out. You have to win a couple of games to stay up in Division One, but if you want to get promoted then you have to win all the games."
Receive quality journalism wherever you are, on any device. Keep up to date from the comfort of your own home with a digital subscription.
Any time | Any place | Anywhere
Posted: 8:00 pm April 12, 2021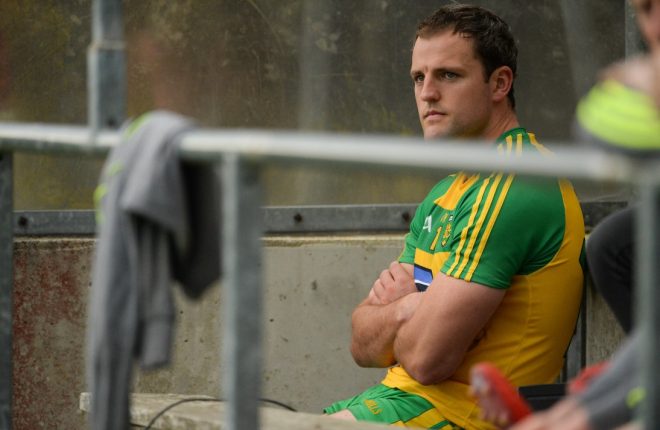 Donegal fans expressed their frustration at Rory Gallagher's managerial performance.