By Frank Craig
MARKETING graduate Eoin McHugh thought that the bright lights of Dublin was the only place he'd find suitable employment.
If he wanted to be rubbing shoulders with global clients, the likes of Real Madrid, Arsenal and Pebble Beach Golf Links, he'd have to become an urban dweller.
Had he been told all that was within his reach back home in the sleepy west Donegal coastal village of Kilcar, he'd have laughed.
McHugh sat out the 2018 season with Donegal and, instead, chose to head for Boston. He did so safe in the knowledge that a marketing position with AIB, in the capital, was secured upon his return.
Settling into that new role, that new life in Dublin the following September, Declan Bonner's number inevitably flashed up on his screen a few weeks later.
McHugh would soon become accustomed to that famous trek, the one made by so many other Donegal stars over the years as they attempted to balance being a Tir Chonaill footballer with living and earning a crust in Dublin.
It was, he says, a grind. But an opportunity to come home arose last summer and it was one that ticked all the boxes. Now marketing and regulations manager at Ocean Knowledge in Kilcar, McHugh says life is a lot less turbulent.
With cousin and fellow Donegal star Ryan McHugh also on the books there, it's much easier to get a manageable balance between work and football.
Despite the Covid-19 pandemic, the player says it's business as usual in Kilcar. Managing Director Declan Gallagher is a local man and friend. So what exactly do they do at Ocean Knowledge?
"Our main product would be made from a seaweed that is collected from around the west coast of Ireland, mainly Donegal," he said. "At the plant itself, it's then broken down. That's mostly done by pressure – there is no heat involved in the extraction process.
"The seaweed we use is called Ascophyllum Nodosum. The uniqueness of that is it spends 50 percent of its life out of the water. It has to adapt massively and it works really well with golf courses.
"Again, at the plant, when it's broken down we make both a liquid fertiliser and a granular fertiliser. Both of those products travel around the world. It goes to sports stadiums, golf courses, any sports venue that incorporates grass."
So many businesses remain shuttered due to coronavirus restrictions. But McHugh says Ocean Knowledge are very fortunate that their position remained relatively unaffected.
"Of course we've had to adapt in certain ways," he explained. "I suppose the way we look at and the way golf course superintendents or groundsmen look at it is that courses and pitches still have to be maintains. Grass hasn't stopped growing because of coronavirus.
"They have to be ready, have things in top condition, for when the time hopefully comes to get back to some sense of normality.
"Golf is probably going to be one of the first things that maybe does get the green light. You can practice social distance. If people follow the guidelines correctly then we'll probably see people back out on golf courses sooner rather than later."
As well as the likes of the Bernabéu and Emirates stadiums, Ocean Knowledge also count Croke Park as one of their clients.
"We're very lucky. We've customers from all over. Some of the best golf courses in the world, the likes of Pebble Beach, use our product. Croke Park here at home use it as well.
"It's funny, I've run out onto Croke Park and looking down, even this year in the league against Dublin, I'm thinking 'yeah, it's looking good. It's looking nice and green'
"It's nice to think that our product is helping in some way with the efforts there."
He added: "Marketing was always the area I wanted to go into, in terms of my career going forward. Before I'd stepped away from the Donegal panel to head to Boston, I knew I had the AIB job to come back to in Dublin.
"But if someone had told me I'd be able to come back to Donegal so soon, that there'd be such an exciting marketing job like this one now on my doorstep in Kilcar, I'd have said they were crazy.
"And listen, I love golf. I play a lot of golf with both Ryan and Declan. It's brilliant to have that interest and it makes work really enjoyable. "So I'm very lucky and very fortunate. That Dublin slog, especially when you're trying to balance your commitments to Donegal and Kilcar, can be tough. To be fair to Declan, he allows myself and Ryan to tailor work around our football. He's a GAA man and he's very good with that side of things.
"Even getting around the local courses, you're talking to greenkeepers and you learn so much. There is so much knowledge there with those lads."
With the chances of playing some form of a football championship slimming by the day now, McHugh said neither his nor his Donegal teammates' routine will change. Until they're told for certain what's happening, they're continuing to prepare and continue to train in the hope some ball is kicked during the remainder of 2020.
"You have to prepare like you believe the championship is going to go ahead.
"Until we're told for absolute certain that it's not, you just keep the head down and get the work done. Obviously, we don't see each other. You don't have that collective training.
"The onus is on the individual now. It's certainly different. But I consider myself very lucky. I can get out and get my running in on the beach, on back roads around beautiful coastal countryside.
"There are people elsewhere in this country that are probably stuck in apartments or in cities and just don't have that on their doorstep. I took a ball to the beach the last day, no one about. I don't remember when I last did that.
"Where we're positioned here in Donegal, and with the weather at this moment, we're just really fortunate.
"If the whole thing was called off tomorrow my routine wouldn't change that much. I find exercising as an even bigger or greater outlet these days. That mindset is there regardless.
"I went up a hill at the back of my house a few days ago. I'd a view of Donegal, Leitrim, Mayo and Sligo. I hadn't been up there in years. I didn't appreciate it probably.
"Like I said, the small things we've all taken for granted, we're suddenly aware of those things again. You have to stay positive."
comment@gaeliclife.com
Receive quality journalism wherever you are, on any device. Keep up to date from the comfort of your own home with a digital subscription.
Any time | Any place | Anywhere
Posted: 10:00 am April 26, 2020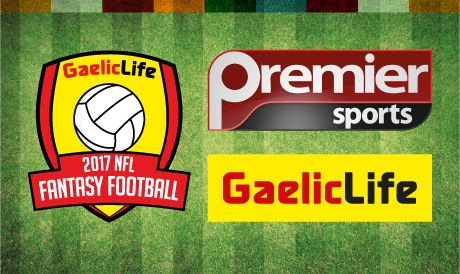 The top-scoring player for week four.
Make sure to consider this advice to give your team an edge in your GL fantasy Mini league.