By Michael McMullan
BOOKIES' odds don't mean anything in Kilcoo. There is only one thing that matters – football.
Tucked under the lip of Lough Island Reavy above, their facilities befit the tag of Ulster champions.
"There is no messing about and no fools are suffered lightly," said coach Richard Thornton of their sheer passion for football.
"It is not a big place. It is a small community, but whatever needs done is done, there are no questions asked."
Sunday's opponents Glen are favourites for Ulster and third in line for the All-Ireland, one place ahead of Kilcoo in each instance.
A sign of disrespect of the current champions? The drive they demonstrated in their win over Ramor United could've been seen as a 'we haven't gone away' type statement of intent.
Thornton disagrees.
"When you are in the moment you have to go after it," he said, referring to Glen's rampaging run to a first Derry title.
"They backed that up when they went into Ulster and did the same to Scotstown. They have the momentum and are going well.
"For Kilcoo, it's about being on the right end of a result at the end of 70 minutes, or however long it takes."
Thornton, who joined Mickey Moran's management team this season, pointed out how well Ramor played for the opening 45 minutes.
"The (Kilcoo) lads found another gear and put the game to bed, but it's about getting the performance right and getting into the next round. It wasn't about setting down a marker, it was about hitting the levels you'd expect," he said.
It was a first step back into Ulster after their magical 2019 odyssey and having last season's competition shelved due to Covid restrictions.
Regardless of what others may day, Thornton stresses the quality on show in the Down Championship.
"People can be lazy and think Kilcoo have won eight or nine and it is an easy championship," he stressed.
Two Jerome Johnson goals helped them to a six-point first round win over Mayobridge. Johnson's goal was the difference against Clonduff.
It took Dylan Ward's late point saw off Carryduff. Jerome Johnson kicked 0-4 in a two-point win over Ballyholland before netting the winning goal in the decider against Burren.
"The standard is very high in Down. It keeps them on their toes and keeps them at the very highest level.
"They were getting into Ulster and they were not crossing the line and sometimes you just need a wee bit of luck. When Mickey came in, it seemed to give them the wee edge."
Looking into Sunday's game, Niall Kane has been preferred ahead of Martin McCourt from their All-Ireland final team.
Niall McEvoy has missed much of the season with injury. There was a substitute appearance for Niall Branagan but his brother Daryl wasn't even listed on the bench
"Yeah, 'Dabs' is on his way back," Thornton points out. "We'll have to wait and see. You are trying to get him back, just for himself and then for any sort of performance."
Like any team, it's about getting all the key pieces of the puzzle in the place.
"At this level and when you are going from match to match, you are trying to keep everyone on the grass as much as possible," adds Coalisland man Thornton.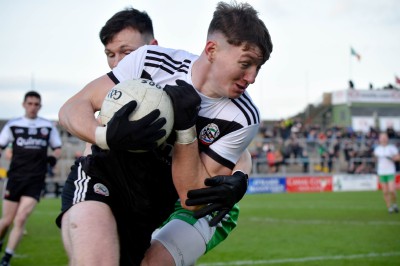 While Jerome Johnston has scored 6-11 in the Down Championship so far, Conor Laverty is the man that makes them tick in terms of movement.
"It is a pleasure to coach all those boys," Thornton said, not elevating any player above the rest.
The Kilcoo players listen when they need to. They'll ask questions, pushing the boundaries for the greater good for the collective. Every avenue to any gain is pursued.
"You (have to) enjoy the player-led stuff," Thornton added. "In Kilcoo, the squad are very good at that, they are expecting more and wanting more. For any coach, that is a dream place to be.
"You don't be in that many county finals, if you don't have that drive and that will to win. That's what Kilcoo have been doing for years."
Sunday's showdown with Glen is the club game of the season, between two contenders for the All-Ireland.
"Glen have been knocking around and not too many in Ulster wouldn't have being expected them to come through, especially with the u-21 success they had," Thornton states.
"Now that they are here, that brings a wee bit of pressure with them but a bit of momentum also.
"It'll be a great game, it'll be a tight affair hopefully. You just want to be heading towards an Ulster final."
Receive quality journalism wherever you are, on any device. Keep up to date from the comfort of your own home with a digital subscription.
Any time | Any place | Anywhere
Posted: 8:30 pm December 18, 2021