MAYO'S spy in Down has kept his ear to the ground and delivered the following message back to the West – "quiet optimism."
Former Mayo and Armagh player Billy Joe Padden, who lives in the Newry area, has been assessing the mood of the locals and he is sensing a growing belief that there could be a shock at Páirc Esler this weekend.
Paddy Tally's men enter the contest as rank outsiders but Padden has said that the unpredictability of the visitors ensures that nothing will be guaranteed under the Saturday night lights.
"Everyone I've spoken to from Down is really looking forward to it because basically they have nothing to lose," said Padden.
"Mayo don't bring that sense of dread that the Dubs or maybe Kerry would bring because they have shown in the heart-attack nature of their games that they leave the door open to inferior opposition.
"We saw that in games they lost, like Kildare last year, and even in games they have won like Derry a couple of years ago and Fermanagh a couple of years ago.
"Mayo were the better team but didn't show it on the day, resulting in crazy, exciting games.
"I think Down supporters and the Down team will be thinking that there's a possibility that we could have another game like that.
"Mayo supporters would fear such a scenario but it has a feeling of being a game like that."
The Mourne county are also coming into the game on the back of a win – their Qualifier victory over Tipperary – while James Horan's side are trying to respond to their surprise provincial semi-final loss to Roscommon.
That defeat has left plenty of question marks hanging over a Mayo side that has lost four of the last seven All-Ireland finals.
One of the most familiar questions has surrounded the strength of their full-back line with Gaelic Life pundit Joe Brolly in particular pushing the issue in recent years.
It therefore seems reasonable that Down may try to exploit it through the Connaire Harrison-Pat Havern axis – two inside forwards who can win aerial ball as well as possession played along the ground.
While wary of the threat of Down's inside forwards, Padden doesn't subscribe to the idea that Mayo have poor players back there.
"I don't know if I would describe it as a weakness, I would describe it as a tactical approach," he continued.
"Mayo just don't leave many bodies back there compared to other teams. The Mayo full-back line doesn't get the help that other full-backs do.
"I think that the likes of Chris Barrett and Brendan Harrison and Keith Higgins have shown that they are some of the best one-on-one defenders in the country over the years.
"There's a legitimate argument to ask whether or not they are still as good as they were, and maybe they're not, but I don't think it's a weakness.
"Down will have opportunities in there though because there will be times when they will be one-on-one and if they can win those battles then they're going to create scoring chances.
"James Horan isn't a manager who will leave two sweepers back, he mightn't even leave anyone back. He'll push men up and will try and pin Down back into their own half.
"So those opportunities will be there and it's up to Down to maximise the opportunities that they do get."
It's been a mixed week for Mayo on the injury front. Matthew Ruane, who had really caught the eye in the league, will miss out after breaking a collarbone in an in-house game.
The travelling support, which could be fewer than usual given the late throw-in time, may get the first glimpse of Cillian O'Connor though after he appeared in a challenge match against Clare last week as he continued his recovery from last year's knee surgery.
"I think he'll help because he'll take some of the worries away," Padden said of the two-time Young Footballer of the Year.
"The free-taking issue has been on everyone's mind. People give out about Cillian's success rate dropping from 90 percent to 80 percent, that's crazy nonsense.
"He's still a very, very good free-taker and he'll box off that issue and it'll quickly become a non-issue.
"I don't think he's fit enough to start or for 70 minutes so maybe we'll see him off the bench."
n.mccoy@gaeliclife.com
Receive quality journalism wherever you are, on any device. Keep up to date from the comfort of your own home with a digital subscription.
Any time | Any place | Anywhere
Posted: 7:00 pm June 22, 2019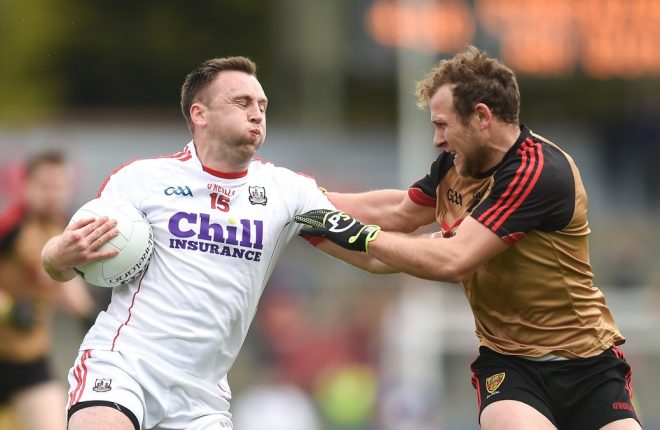 Fionnuala Carr likens Down's fight back this season to Rory McIlroy's career.