By Kieran Lynch
A PROBLEM is on the rise in the GAA, with the pool of available match officials shortening year on year.
In Armagh for example, 46 referees were tasked with officiating 1,300 matches between both adult and juvenile levels last season.
Often overlooked and underappreciated, the life for the man (or woman) in the middle isn't easy, but without them, we wouldn't have the games we all enjoy so much.
As the shortage continues, all counties in Ireland are on the lookout for increased involvement in officiating, and Armagh Referees Administrator Henry McCloy spokeout, to bust myths on refereeing, encourage more people to get involved and describe the benefits that come with being a GAA match official.
Kieran Lynch: Why is it important to encourage people to become GAA referees?
Henry McCloy: Firstly, if you have no referees, you have no games. If you want to see your club and or county flourish, players need quality competitive games. Lack of game time will limit opportunities for our young people to participate in our Association's games.
To give you an idea of the scale of participation in the GAA club scene across Armagh last year, there were approximately 540 adult games and 760 juvenile games that took place across football and hurling. That doesn't take into account challenge games, school games, blitzes and tournaments.
We had 46 referees to cover all those games, and that is a serious commitment from a small panel. So, to balance the workload all round, we need more people to step forward and take up the challenge.
Also,for young people there is an opportunity to become an elite official, just in the same way that you can become an elite player. Ulster GAA will shortly be unveiling a Referee Pathway which will look at developing club referees to become top county officials.
But even if you don't harbour that ambition, you become part of a team – just like your football or hurling team, you will become part of a team of officials. Getting involved in championship games, you will be there be with the ref, his umpires, standby referee, fourth official. There is nothing like the buzz of coming down the tunnel on match day at the Athletic Grounds.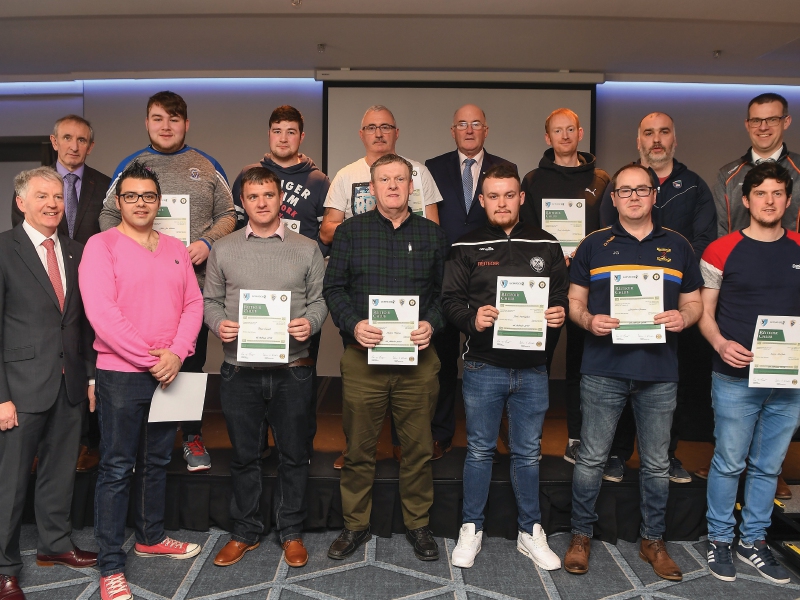 NEW RECRUITS…In 2019, Armagh recipients including Brian Carvill, Omar Deveney, John Joe Hunter, Martin Hatzer, Conall Mc Ginnity, Kevin McCann, Paul Murnaghan, Paul Gallagher, Jonathan Gorman, Kevin McGale, Paul Hughes, Henry McCloy – Administrator are photographed with Uachtaráin Cumann Lúthchleas Gael John Horan, Willie Barrett, Chairman National Referee Development Committee, and Vincent Neary, Chairman Referee Instructor Workgroup at the presentation of certificates to new referees at Croke Park in Dublin
Being part of a county final is unforgettable. Imagine what it would be like getting to Clones, the new Casement Park, or Croker?
It can even help your development as a player: knowledge of the rules, interpretation of the rules, positioning and angles of play, might ironically give you the opportunity to become a better player. As players we 'picked up' the rules at an early age by word of mouth from our parents, siblings, peers, coaches and managers. Some of the rules might have been correct, some of them have definitely changed and interpretation of some rules can certainly be a head scratcher.
Additionally, some simply just do it for the craic our to keep active, all with the aim of making sure our young people get games and keep them active.
KL: What is the training like to become a referee?
HMcC: Training has become standardised through Croke Park, delivered in a combination of online and classroom based.
New referees complete a foundation course, which is in four modules. You have to complete the interactive video-based modules called Powers and Duties of a Referee, Referee Safeguarding, attend a face-to-face rules practical and return to online to complete the rules test.
The classroom-based session is facilitated by trained GAA tutors (former top-level referees andor referee assessors) who walk you through the technical, aggressive and dissent fouls. This is done with video clips from games at national and provincial level, encouraging debate on the infringement and the proper freesanction to be awarded.
Existing referees must also complete an in-service course at the start of each season, which follows a similar format to the foundation course.
You have a pre-season fitness test to do as well, and that is based on the Yo-Yo test. Our referees will be provided with mentoring whilst some look for advisor reports to help on their development into provincial and national level.
In addition, we provide other education through seminars that are shared to us by Ulster GAA.
KL: What are some of the positives and benefits you have got from being a referee?
HMcC: For me, one of the benefits is giving back to the association. You also stay active. Knowing you have a fitness test coming up, followed by a busy season – you have to get yourself in shape. Players are putting a big effort into the season – it is only right that officials do so to.
You get to be involved in games and venues that as a player you most likely wouldn't have been part of – including the latter stages of championships.
I get to represent my club; I have gotten to know a lot of people across this county and beyond.
I get to stay involved in the games and keep my knowledge of the rules up to date.
Furthermore, I have moved into administration at county level and taken up the role of Referees Administrator for Armagh – which has been a big honour for me.
KL: Why do you believe there is a shortage of referees in the GAA?
HMcC: Look at the annual reports from the GAA's Provincial Councils and you will read that the shortage of referees is not confined to Ulster or Armagh. It is a 32 county-wide issue. You will also see find reference in media reports that there is a shortage of referees in soccer, tennis, and many other sports.
It could be a time or work commitment issue. If that is the case, we are not asking you to be available 247. If we can boost our numbers sufficiently, that'll mean that someone can do one night per week, and that will ease the workload.
I would suspect that the negative publicity around refereeing will put off a lot of people. But those occasions when an official has been on the receiving end of abuse are rare. It happens – we can't hide it. In the GAA, the disciplinary process does their duty to ensure that the matters are dealt with, that the proper sanctions are put in place. In the majority of cases, where the disciplinary process is followed correctly, it prevents it from happening again.
KL: What would you say to prospective referees who may be fearful of hearing abuse from the stands or being criticised for their performances?
HMcC: Any new referee is not going to be dropped into a championship winner-takes-all derby game. They will start off at juvenile level in 'easier' games and serve their apprenticeship.
We are in the process of getting mentors to come and observe them over a few games and advise them on how they are doing and make suggestions to assist in their development. As their season develops, they can move up through levels of difficulty with a view to progress into adult games after a year or two.
If you are up with play, blow the first foul and award the appropriate sanction, then you are going to be able to control the game. Like all aspects of life, you need to get experience and some days will be a steep learning curve. We all make mistakes, but it's how you respond is the difference between progress and stagnation.
As for the critics, it's easy to be a 'hurler on the ditch' but in the heat of the moment you don't engage with them. The best referees do the game with a smile on their face and just move on.
KL: Any other information you would like to include?
HMcC: Armagh GAA are committed to the recruitment and development of our match officials. You will be provided with training, kit, support, mileage expenses, etc. The only thing you'll need to purchase is a whistle and your boots.
You don't need to be a former player, never mind a former star player to become a referee. One of our upcoming referees, who recently graduated from the Ulster Referees Academy, didn't play football at adult level.
To get involved in refereeing, the most important qualities are: Be enthusiastic about the job, have good communication skills, be committed to staying fit and learning the rules, operate in a calm and collected manner, and apply the rules without fear or favour.
I would encourage any prospective referees to go down to one of your club's training sessions and ask to referee one of the training games, see how you get on. It'll be a good gauge for you.
To the clubs, support your referee in whatever way they need. They do a massive job for your club and deserve our full support.
Receive quality journalism wherever you are, on any device. Keep up to date from the comfort of your own home with a digital subscription.
Any time | Any place | Anywhere
No tags for this post.
Posted: 12:00 pm April 3, 2022