Sláine McCarroll was inspired by Tyrone's All-Ireland win of 2008. Her career to date has brought success and injury heartache. Michael McMullan writes…
TYRONE'S 2008 All-Ireland final win lit a fire in Sláine McCarroll that still burns bright. Within a decade, she was an All-Ireland winner at Croke Park and longs for another run out at Headquarters.
A career yielding silver every year hasn't always been smooth. Four days in intensive care as a teenager was followed by a knee injury.
It went away twice before returning on a fateful day in 2020 when only an operation would get her back on the road to doing what she loves – playing football.
From Eskra, she is the middle child of five. Her brother Daíre is the club's goalkeeper. Róan is also older.
Younger sisters Meabh and Cadhla play on the senior team with her in St Macartan's, formed in 1992 to offer football to the girls of Clogher, Augher and Eskra.
Their mother Patricia doesn't miss many of their big moments, but has the motherly concern for their safety.
"Daddy (Mark) is mad into football and he would've played until he was nearly 40," Sláine begins of the early days. She came to football later that most.
Before her cousin Caragh talked her into joining the Eskra Emmet's u-12 boys' team, swimming was her first sport without branching into competition.
"I would recommend anyone to go swimming, it is great for endurance and everything. I can never remember be feeling unfit or out of breath out on a football pitch when I was younger," she said, regretful of leaving swimming behind.
"I enjoyed playing every sport at school. I would've joined in with the boys to play soccer at lunchtime."
A year with the Eskra boys and a favourable birthday gave her a year of u-12 football with St Macartan's the following season.
It coincided with Tyrone men bracing themselves for getting their hands on Sam for a third time. Aware of the first two All-Ireland wins, the 2008 final had her hooked on football.
"I remember them winning and thinking 'this is unreal, in Croke Park' and that's where my footballing journey started," McCarroll said of the standout moment.
The boundless energy was perfect for a running role at midfield as St Macartan's u-14s won the Féile on the way to a one-point All-Ireland defeat in a season that saw her selected as Player of the Year.
"Then, I couldn't get enough and I wanted to be the best. I am a very competitive type of girl," she added.
Club glory at Grade 'A' level and call-ups the various Tyrone underage development teams followed her all the way up the ranks.
"We were very successful every year. From u-14 until now, I have never come away without any silverware," she said.
"I was very lucky that I grew up with girls that loved football; we're really competitive and with a real desire to win. I always won something every year."
The success went hand in hand with school life in St Ciaran's, Ballygawley who landed back-to-back Ulster u-16 titles, with the second stretching all the way to 'A' All-Ireland glory, beating Coláiste Dun lascaigh in the final.
The Tipperary school had current county star Aishling Moloney in their team, who was later that year voted as TG4 Young Player of the Year for her exploits with the county seniors.
"It was the first time I heard of her and we were told to watch out for her that," recalls McCarroll, who was named as Player of the Match.
St Ciaran's went on to win Ulster u-20 A and B titles, but the All-Ireland silverware eluded them as the player continued to make her mark for club and county.
Mark McCarroll felt something was wrong. Sláine was heading into senior school at the time, but things weren't adding up. She had flu-like symptoms and with regular spells of feinting.
"I kept feinting and Dad was taking me to the GP," she said. "He took the day off work because he knew there was something not right about me.
"The GP looked at me and literally sent me straight to A&E and told me not to even go home for clothes.
"Daddy took me down to the hospital and I was there for a two weeks and was in intensive care for four days.
"I had viral myocarditis and nearly died from it," she said, looking back on how it was diagnosed "just in time".
Now a nurse in Enniskillen's South West Acute Hospital, it stemmed from being nursed back to health.
"From the nurses looking after me, I thought 'youse are amazing' and that's where my interest in nursing stemmed from," she explains.
"I was always asking questions at the hospital and I found it really intriguing, so I thought I'd like to be a nurse."
It took time, but illness was fading behind her and it was time to get back on the pitch. With the St Macartan's underage production line delivering, the senior team were at the top of the tree in Tyrone.
The Donaghmoyne machine was in its pomp and St Macartan's bore the brunt in the 2016 Ulster final, falling to a double scores defeat in the club's third provincial decider.
St Macartan's were celebrating their 25th anniversary 12 months later and went one better to turn the tables on Donaghmoyne in the final after leading by 11 points at half-time thanks to goals from Paula Donnelly and Cathy Maguire.
"It was one of the best days out I have had," McCarroll offers from a career with many highs. "It was the effort we put in that year and we knew could beat Donaghmoyne that year, from the previous year.
"To finally beat them…they started to make a comeback and it was about holding out to the final whistle and it was more of a feeling of relief than anything else."
The party lasted for days and preparations for an All-Ireland semi-final with a Cora Staunton led Carnacon weren't what they should've been.
"They came up from Mayo and showed us how it was done," she remembers of a day Staunton hit 1-7.
"They hammered us and were an unbelievable team. We didn't take it as serious and celebrated that Ulster for about two days and we had the game really soon after."
Now in her mid-twenties, McCarroll has plenty of years to add to her six county medals and eight league medals as the club aim to defend it for the 11th time this season.
St Macartan's were going for six championships in a row when Carrickmore beat them in the 2021 final. McCarroll bagged 1-2 in last year's final as they emerged from Tyrone once again.
"I have been very lucky to have won what I have won so far. People would love to have half the things I have won, so I am very grateful," she admits.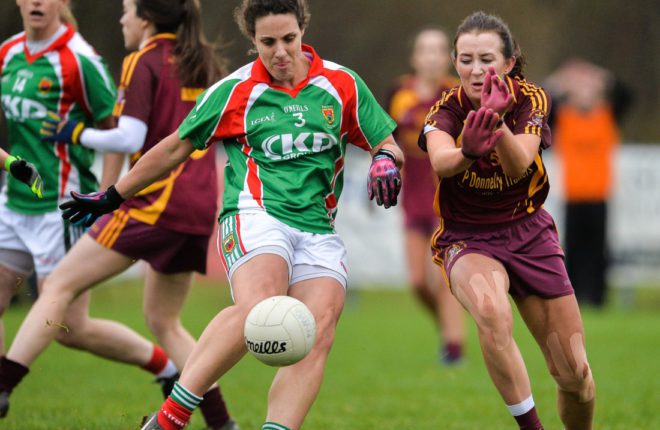 CLOSING IN…Sláine goes for trhe tackle during St Macartan's 2017 All-Ireland semi-final defeat to Carnacon with former Mayo star Cora Staunton in the backgroundIn the red and white of Tyrone, the wait for silver had to wait until the senior ranks. At underage, it was a mixture of Cavan, Armagh and Monaghan who lifted the silver.
McCarroll's Tyrone senior career was in limbo nearly before it had even taken root with the first of three knee injuries.
A debut is meant to be a memorable one, but it was for the wrong reasons in the season's opening game against Sligo with the semi-dislocation of her knee.
After six weeks in a splint, the rehab wasn't followed as seriously as it should've been, leading to a reoccurrence at club training with an innocuous slip and a collision.
There was another popping sensation and swelling as the patella moved out. Looking back, an MRI and surgery should've followed. Instead it was back into the splint and into rehab to build up the muscles around the knee.
The injury ruled McCarroll out of contention as Tyrone went all the way to an All-Ireland final where they tasted defeat to Tipperary.
The strengthening work was enough to keep her on the pitch the following season as Tyrone went one better by beating Meath in the All-Ireland final with McCarroll fulfilling her dream of ten years earlier and lining out on the biggest Sunday of the year, one of three St Macartan's players on the winning team.
"I was able to play for another year or two, but in the summer 2020 I fully dislocated it, where it came out in a championship game against Sperrin Óg," she recalls of the realisation her knee needed a proper look.
This time, the kneecap stayed out and she lay in complete agony you'd never wish on your worst enemy. A complete knee construction was first feared until a scan revealed a tear of the patellofemoral ligament.
"That was the only thing I done. There was no meniscus (damage), ACLs or anything like that. I was very, very lucky, but I still needed an operation because it was a complete tear," she admits.
Then, in second year of a nursing degree, she'd missed four weeks of placement with her initial injury. This time, the operation would have to wait and was postponed until the following January.
"I didn't want to have to repeat the year. I put my surgery off for a while because I knew I was going to be out," McCarroll said. Placement meant busy days trucking around the wards and corridors. Being off her feet or falling behind wasn't an option.
There were no setbacks to the operation and she "flew through" the rehab with the tunnel vision of getting back playing again.
"It wasn't good watching the matches from the sideline or watching the girls train," she said. "I just wanted to be a part of it because you feel very isolated when you are doing rehab."
The struggle was a mental one under a cloud of doubt. Could she get back operating at the same high level?
The coaches and physio drove her to park any fear her knee wasn't ready. That in itself, could lead to further injury. She just needed to believe in the operation and hours of rehab.
"You do be fearful at the first couple of training sessions and you'd nearly be urging people not to touch you. Then, after a few training sessions I was 100 per cent and well ready for a match," she said.
Her inner concern remained about fitness and if the technical skills were still at the level required.
After 10 months out of action, she was back in the fold as St Macartan's navigated their way through the quarter and semi-finals, but describes her form as "shocking". Six in a row was waiting. But so was Carrickmore and defeat added to McCarroll's doubt.
Earlier year, she made a decision to park Tyrone until having her arm twisted to return for the latter stages that ended up with defeat in a relegation play-off. The hurt was building.
"I got myself into a really negative frame of mind and then the managers talked me into coming back," she recalls.
"I really only made it back for the last game, a relegation battle with Tipperary and we lost that too."
Looking back at her club form, she wasn't happy.
"I played in that final (defeat to Carrickmore) and I hated football after that. I had these thoughts of not getting back to how I used to play and defeat doesn't help that. I didn't enjoy football, I hated it so much."
That was then and this is now. Her grá for the game is back, but it took a period of reflection. Absence makes the heart grow fonder.
"I did take a break, but when I wasn't playing football, I missed it so much and thought 'this isn't me'.
"I have been playing football since I was 11, so I needed to get back to doing what I loved and I just needed to snap myself out of it."
It was time to get back training, but two voices were nattering about in her head. One said she'd bounce back, but the other version of herself still had doubts.
"It turned into a competition with myself. I knew that I could get back to full fitness, but part of me was saying 'you can't' so I wanted to prove myself wrong," she sums up of her crossroads.
The only way out of the "rut" was to train even harder. It was time to jump straight in again.
"I think if I had to do it again, I would be a bit more positive, but hopefully I will never need to," McCarroll sums up.
"I am flying again now and I think I am a better player than what I used to be before. It was tough at the time. I am not grateful it happened, but now I can deal with things a bit better."
What next? Helping steer Tyrone back to Croke Park? There is only one answer.
"Definitely, I think that is any girl's dream. I would love to get back."
Their 2023 league form has been indifferent, but it's always been that way.
It's hard to put her finger on it, but the Tyrone she knows emerges when the championship rolls around.
You don't need to be talking to Sláine McCarroll for long to realise one thing – she is born to play.
Receive quality journalism wherever you are, on any device. Keep up to date from the comfort of your own home with a digital subscription.
Any time | Any place | Anywhere
Posted: 10:00 am March 24, 2023