The GAA World Games takes place in Derry this week. Cairde Khmer from Cambodia are only six years in existence and are one of the travelling clubs. Michael McMullan writes…
IT'S All-Ireland hurling final day 2017. Kevin Moran and Kieran Bennett's goals aren't enough to end a Waterford famine. It's a day when nine points from Joe Cooney and rock-solid defending from Gearoid McInerney was enough to see Galway take the Liam McCarthy west.
Far, far away from Drumcondra and the Croke Park blockbuster, Cookstown man Paddy Campbell is one of the oceans of ex-pats across the globe tuned in to watch hurling's biggest day.
In Siem Reap, the second largest city in Cambodia, he has Cork native Jen Ryan and Sligo man Derek Culligan for company.
Looking on at the wizardry in Dublin, an inkling trickled into thoughts and then into words. What about setting up a GAA club in Cambodia? Sure, why not?
A former player for Fr Rocks in Cookstown, study took Campbell to Manchester before former Tyrone star Kevin McCabe tasked him with managing operations of his Harpscreen company in Malaysia.
There, he began playing football with the Orang Éire club in Kuala Lumpur he is now vice-chairman of.
The five years jetting to and from Ireland planted the seed of a career as a teacher and a job in Siem Reap came calling.
"It was always my intention when I moved to Cambodia, I knew I was going to be there a couple of years," Campbell said of his initial thoughts of starting up a GAA club.
"There just wouldn't be enough there to get things going (in Siem Reap) so I just touched base with as many people as I could in Phnom Penh and the first person who got back to me was Conor Wall. He was enthusiastic and six weeks out from the Asian games, we decided we'd try and get it going."
Ballinascreen man Joe Trolan, an established figure in Asia GAA, was a shoulder to lead on for guidance.
It wasn't long before Cairde Khmer was born, a GAA club formed between both cities, with Cork man Wall, becoming the "driving force" behind the Phnom Penh side of the club.
At first, there were enough ex-pats and westerners to cobble together men and ladies teams for the trek to Bangkok for the Asian Gaelic Games in their first kit sponsored by Paul Campbell of Powerscreen.
On their return, a first committee meeting brought a brainstorming session that pencilled out the next stage of club development.
If Cairde Khmer was to be sustainable, they needed more players and the move began to roll out GAA to the locals who'd never laid eyes on what it had to offer.
Outside of players with AFL experience and its relative similarity to GAA, Cambodians were entering the unknown.
"A lot of Gaelic clubs in the world have local players who'd be quite affluent, but all our players would pretty much come from low-income backgrounds," said Campbell, who added how it was almost frowned on for women to even be partaking in sport in Cambodia.
Across the world, most sporting clubs have membership or a surcharge to cover registration, insurance, equipment and pitch rental. In Cambodia, Cairde Khmer's modus operandi was making Gaelic games free to everyone.
"It took a year or so for them to come on board," Campbell said of the beginning. "Then, by the next AGG (Asian Gaelic Games) in 2018, we had four girls playing and that was the start of Cambodians coming on board."
Founder member Jen Ryan put her heart and soul into the ladies side of the club. It's no mean feat when their time at the club was largely the first time they'd access to any form of organised sport.
Looking at how far they've come, there will be a sense of pride to see the club on the GAA map back in Ireland for the World Games.
The Covid-19 pandemic ended Campbell's time in Cambodia, returning to Malaysia with Cork man Ronan Sheehan taking over as chairman with Cairde Khmer.
Speaking from Cookstown on his break home for the summer, Campbell looks on fondly how far the club has come.
"I would be very proud of what the guys in Cambodia have achieved," he said of all the organising of getting a touring party onto Irish soil.
"It was an amazing undertaking, raising $70,000 and maybe more. To see native Cambodians thriving in the game, it was something myself, Derek, Jen and Conor really wanted to get going.
"Not only to see them training, but to see them coming to Ireland it is very emotional. We always found a way of getting as many Cambodians to get a taste of the Asian and South Asian Games every year.
"Conor is there the guts of 20 years. Him and Ronan speak fluent Khmer and it is a joy to see them interact with the Cambodians."
***
Ronan Sheehan was one of those to answer the call of Cairde Khmer when gathering up players during the humble beginnings and now he has taken on the mantle as Chairman.
Just over six years into their history, the club had a squad of 26 players jet into Ireland before trekking north to Derry for the World Games.
Only one has been to the Emerald Isle before with the majority on a plane for the first time.
"The procedure was to cross our fingers, cross your toes, cross your legs, cross everything and hope for the best," Sheehan laughs, casting his mind back over the months of organising.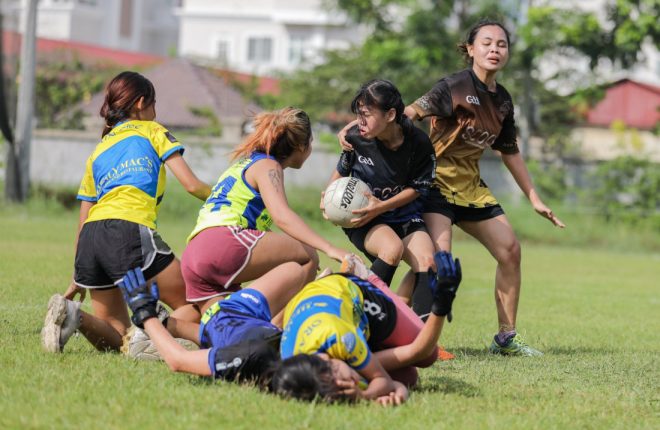 "When that plane lands in Dublin, I am going to breathe out a huge breath," he said last week as the months of planning came to an crescendo. "The football is the easiest part."
Planning began back in November with the setting up of a funding page on the internet. GAA is far from the biggest fish in the Asian pond, meaning Ireland was the main focus of gathering the money needed for the trip of a lifetime.
"We got sponsors on board and embassies on our side," Sheehan added. "The Irish Embassy was very good to us and we got the British Embassy on board."
There was a cross-community party arranged for St Patricks' Day, ticking a box to help secure the visa needed for the trip.
Every rabbit hole was found and crawled through in search of any source of funding. Their exhaustive trawl was as relentless as it was worth it.
"We somehow managed to get it all across the line," Sheehan said. The 'it all' was the full package.
Food, travel, insurance, tickets and visas – the lot. It's all paid for and everything is in place.
"Out of 26 players, only one has been in Ireland. Most have been outside Cambodia at tournaments in countries next door.
"Quite a few of them have never been on an airplane before but they can get to places like Thailand and Vietnam by bus.
"The paperwork for one player…it's a stack of paper that is thicker than the bible itself," said Sheehan, joking about a Tik-Tok video he created to chart the process.
Bank statements. Property and family records. Birth certificates. Letters of permission from both work and school. You name it, it was all required and needed translated before being uploaded online.
"We got it all off to the Irish Embassy in Hanoi and we have a great relationship with them…they were very helpful," Sheehan added.
Sovann ThidaAva, an orphan abandoned on the streets of Phnom Penh, is another success story in the club and the level of planning to get her trip to Ireland in place.
She was raised by a local organisation for disadvantaged children and growing up, girls were encouraged to take up pastimes such as drama and art.
Sport wasn't an option. But her life changed when she was introduced to Cairde Khmer. From dipping into Gaelic football at the age of 13, Ava – as she is known by – has blossomed and will be in action in Derry.
"Her paperwork is non-existent, so getting her across the line was very hard," Sheehan said of ensuring all was in place for this week's trip of a lifetime.
Beyond the World Games next week, Cairde Khmer is so much more than the 13 men and 13 women lucky enough to make the trip west.
Almost 90 per cent of the Cairde Khmer membership are Cambodian, a contrast to many of the other teams in Asia made up of Irish people on their travels and looking for a taste of a home from home.
"On a Monday night in Phnom Penh, we could have about 40 or 45 players coming down to train, ladies and men," Sheehan said.
"What satisfies me most is having a club that is open to all the players and is somewhere for them to congregate on a Monday and a Thursday night, that is huge in itself.
"Organised sports here are not very organised when you think of the structures you take for granted back home in GAA, rugby or soccer…from underage all the way to adult.
"It is not the same as over here where some set up their own teams for themselves in a Sunday League. This is organised for players who would generally have nothing and to see them excel through that.
"Getting to watch them go out and playing something that is foreign to them and be confident doing it, I still get a kick out of it."
Another aspect making the World Games special for Sheehan is a chance to give back. Since relocating on the other side of the world, the people of Cambodia have welcomed Irish people into their homeland, traditions and customs. Now it's Ireland's turn.
"I don't think we ever envisaged a time when we could reciprocate it and open up our homes and our culture and take them under our wing," he said. "It is going to be nice to show them where we have come from."
The irony comes from being twinned with the Swatragh club. Current Secretary Eamonn Hassan spent time out refereeing the Asian Games and fully appreciated the value of the Irish culture far away from home.
When the organisation wheel began to turn for the World Games and Derry were putting their plans in place, Hassan dropped in his links and relationships with the Cambodians.
While the team will be staying at the Ulster University campus in Derry, they'll visit Swatragh for the closing of their summer camp to get a taste of GAA on the ground in Ireland.
"It was a different scale to anything I imagined," Hassan said of his fond times in the east.
"Paddy (Campbell) and the Cork boys were all players then. It was great and until you see it, you don't know how enjoyable it all is."
Last Sunday, it was Limerick and Kilkenny battling it out to get their hands on the Liam McCarthy Cup.
In the six years since three Irish people perched in Siem Reap, soaked up hurling's biggest Sunday, little has changed yet so much has changed. There is a new GAA club spreading its wings.
Cairde Khmer would like to extend a special thanks to all sponsors involved in Ulster GAA with a special mention to Aidan and Pauline O'Neill and the DLD fund.
The DLD fund supports charitable purposes with a mission to break down barriers to education and the work place, thereby enabling people who are disadvantaged by economic circumstances, health and educational attainment to reach their full potential.
Aidan and Pauline's children (Donal and Claire from the Burren club) represented Cambodia at the Asian Gaelic Games in 2022 and despite moving on to new pastures are fondly remembered in Cambodia with the club deeply appreciative of the support of the O'Neill family.
To find out more about DLD fund please visit https://dldfund.com.
Receive quality journalism wherever you are, on any device. Keep up to date from the comfort of your own home with a digital subscription.
Any time | Any place | Anywhere
Posted: 9:00 pm July 24, 2023