Tyrone's midfield maestro from the 1980s Harry McClure talks to Niall Gartland about his club and county career…
HE was reared in Coalisland parish and his father played for Armagh – but it was with Clonoe and Tyrone that Harry McClure starred during the eighties and early nineties.
McClure lined out in midfield alongside Plunkett Donaghy in the All-Ireland 1986 final, and while things went pear-shaped that day after building up a borderline insurmountable seven-point lead, he harbours no major regrets and looks back with fondness on the big occasions in Clones and beyond.
These days, he has three sons lining out for Clonoe, including former Tyrone midfielder Declan McClure, but it's fair to say he wasn't reared on tales of the great O'Rahilly's teams of the fifties and sixties.
"My dad's originally from Maghery, Alfie McClure," said Harry. "He got married relatively late so we weren't really conscious that he played football until he passed away.
"I worked with a few Maghery boys and they mentioned my dad and showed me photos and told me that he played with Armagh, and you obviously do a bit of digging around after that to find out more."
McClure lives in between Clonoe and Coalisland, and the decision about whom to play for was made up for him by some young scallywags from the town.
"We were in Coalisland parish, my brother Gerard played for Coalisland and we went to school there.
"I remember going to see him play when I was eight or nine-years-old. I was kicking a ball around and a few boys asked me where I live. I said 'down there', what we call Annagher, and a lad said 'if you don't live in Meenagh Park you don't play for us' so I packed my stuff and headed down to Clonoe."
It's fair to say that McClure wasn't a footballing fanatic in those days, however. He spent much of his time mucking in on the family farm, but he was made of the right stuff, and two O'Rahilly's stalwarts came looking him when he drifted away from the game after his father passed away.
"I played on the team that won the Tyrone minor final in 1979 but my dad died that year and I never looked about a ball again for a couple of years. There were eight girls and three boys in the family, and when football was over you had to go straight home and help out on the farm as well.
"Two great O'Rahilly's men came and asked me if I'd play football again. I hummed and hawed and came back when I was 19 or 20. I lined out in one reserve game and I was straight onto the senior panel after that. I started off in full-back but sometimes drifted forward a bit to field the ball. I was moved into midfield and never left that position for the rest of my career."
McClure was an interested spectator for Tyrone's Ulster final victory over Armagh in 1984 – the famous 'Frank McGuigan final' where the Ardboe maestro scored a remarkable 11 points from play. A few months later, McClure was brought into the Tyrone panel.
"I remember watching the Ulster final, it was a great sunny day and I was in the middle of the crowd. Did I think I was going to be called in that year? No, to be honest.
"Then I was called in during the winter of '84 but I don't actually remember getting a phone call as such from Art McRory. Kevin McCabe (another Clonoe footballer) was already on the Tyrone panel and he basically said 'I'm lifting you and taking you to training'. "At that stage I didn't think much of it, it was basically just like playing for another team."
Not that the modern-day intercounty footballer has it easy, but it was just as rigorous in its own way in the days before a professional approach to strength and conditioning took hold of the game.
"I was a joiner and it was tough. You'd go home after work and get the cows sorted – at that stage daddy had died so it was up to us boys to get these things done. Mummy would have the dinner ready as soon as we got through the door, we'd get stuck in on the farm, and when that was done it would be straight out to Omagh or Augher for training.
"When that was over, Art would throw us a carton of milk and a couple of packets of chocolate, that's all we'd get on cold, winter nights."
McClure's first season in county colours was underwhelming – Frank McGuigan's intercounty career came to a premature halt as he was involved in a serious car accident and he never played again, and that undoubtedly had an impact on their progress in 1985.
"I remember before I played my first league game, against Armagh, Frank said 'play as if you're playing for your club, enjoy it' and that sticks in my mind.
"Unfortunately there was the car accident and that was a big blow to us. He made everything look so easy. We got knocked out by Derry in the first-round of the championship so we had to rebuild again, we got a few more players in and we got it together in '86."
Tyrone built up a head of steam that year and after dispensing with Down in the Ulster final, they were brimming with confidence heading into an All-Ireland semi-final with Galway. As far as McClure was concerned, there was only ever going to be one winner that day.
"It was a great experience for me as I wasn't involved in 1984. People were talking to you on the street about it and fans came to watch us train so there was definitely a buzz around the place.
"I get the impression there was a stronger bond in the team than in 1984, probably because the bulk of us had been on the road for a few years at that stage. We were growing in confidence and couldn't wait to play Galway. To be honest I knew Galway weren't going to beat us, I felt if it went down to the wire we'd find a way to beat them because there was a great spirit in the camp and we were totally prepared."
Then came the toughest test imaginable – an All-Ireland final showdown against Mick O'Dwyer's Kerry. They were quietly confident they could throw a spanner in the works, however, and they surged into an seven-point lead before the house of cards came tumbling down.
"We had a young, fit team and we honestly felt we were a match for Kerry. We had great confidence and in the first-half we showed what we were capable of.
"I remember Plunkett [Donaghy] was to take Jack O'Shea and I was paired with Ambrose O'Donovan. The ball was kicked out to me because I had an advantage over Ambrose in fielding. That doesn't mean Donaghy wasn't fit for O'Shea but the ball was coming towards me and I got plenty of possession. Ambrose was taken off so I was confident and happy with how things are going."
The tale has been told many times – Kerry were handed a lifeline when Kevin McCabe's penalty blazed over the bar after which they assumed almost total control of the contest and ran out handy winners. McClure feels that the departure of injured duo Eugene McKenna and John Lynch arguably played a greater part in Tyrone's downfall.
"If you look back on the penalty, Kevin's the type of fella who'd like to put it away so I think he just got his toe under the ball. Jack O'Shea missed a penalty as well, his shot hit the crossbar and came back out but there wasn't a word about it. There wasn't a word about it because Kerry won the game.
"A bigger problem was we lost McKenna and then Lynch had to go off as well. At that stage I got the impression Kerry had accepted defeat but decided to go for it once those two men went off injured. They got a goal and the game turned completely."
Still only in his early twenties, McClure was naturally disappointed with how things panned out but knew there was plenty of time to make amends. Unfortunately it didn't work out that way, and it took another 18 years for Tyrone to win their historic first ever All-Ireland title.
"I was disappointed but I knew I'd empted the tank and thought maybe we'd get back at some stage. I remember coming home on the bus and the Tyrone fans were fantastic, I thought 'I could definitely do this again' but that didn't happen."
It took another three years for Tyrone to make it back on to the national stage. They eased past Donegal in an Ulster final replay at a sweltering Clones, and the pieces seemed to be in place for an all-out assault on the Sam Maguire.
Their experienced heads were, well, even more experienced, and they had some talented younger players making their mark like Cookstown forward Stephen Conway and Omagh's Seanie Meyler, father of current Tyrone star Conor. Mayo stood in their place of a second-ever All-Ireland final appearance, but the wheels came off the wagon that day.
"We won Ulster after a replay, two scorching days. I remember my eyes were stinging and I had to put vaseline across my forehead to keep the sweat out of my eyes. It was a draining experience and we only had a week or two to get ready for a replay, but we did the job and we were thinking 'we're back again.' We fell short against Mayo and it was massively disappointing as we believed we were good enough to win the All-Ireland.
"Maybe our fitness levels weren't as strong as in 1986. We didn't slog as hard and I think that told a tale in the closing stages of the match."
McClure stayed on with Tyrone for another four years, eventually bowing out at the end of the 1993 season.
On the club front, he enjoyed success with Clonoe both as player (overcoming, in a twist of fate, Coalisland in the 1991 final) and as selector to the sides that claimed the O'Neill Cup in 2008 and 2013. He was at the tail-end of his career when he won a senior championship medal, and he says Tyrone legend Jody O'Neill played a major part in their renaissance at the time.
"Jody was over us in 1989 and he steadied the ship and got us to the final in 1989, where we lost to Omagh. I've great respect for that man, even in my younger days he'd always talk to you and give advice if you saw him up the town.
"We were playing badly but he came in and sorted things out, and he'd a different way of looking at football which I admired."
"Then we went the whole way in 1991. It was our dying kick as such. Kevin McCabe had finished playing county football and he decided to take the team. McCabe was player-manager and there was a great buzz. We played Carrickmore at the start of the championship and McCabe said 'if we beat Carrickmore today we'll be meeting Coalisland in the final so think about that'. That was a hard, hard game, it was the toughest game for us in the championship."
"We met Coalisland in the final and all the talk was that they're going for three-in-a-row and the idea of stopping them was really driving us on in training. It was a bit like the 1986 semi-final against Galway, we knew we'd have the measure of them no matter what they were going to throw at us, and Kevin McCabe gave an exhibition that day."
In more recent times, Clonoe enjoyed a golden period under Damian Cassidy, an All-Ireland winner with Derry in 1993. As well as being tactically astute, he prioritised discipline above all else and that was the secret of his success. McClure was part of his backroom team and explains how it all came together for the O'Rahilly's in 2008 and 2013.
"Damian was available and our club committee went to him. He's the type of man who knew a lot about teams already and he asked our three men who went to see him 'is there a championship in this team?'. Like any other manager, he wanted success and the CV. We told him there was a championship up for grabs but that we lacked a bit of discipline.
"He doesn't take any nonsense and that worked to our advantage and he changed the whole thing around. The lads knew he'd call a spade a spade and they respected him and put in the hard work. We'd a good young team coming through, a conveyor belt of talent, and they won two county medals which is good going in a county like Tyrone where there's nearly a different winner every year."
Sons Declan and Fintan are Clonoe stalwarts at this stage, while their younger brother Pascal has come through the ranks and is also playing at senior level.
Tyrone supporters will be particularly familiar with Declan, who opted out of the intercounty panel at the outset of last year's Ulster Championship. Tyrone ended the season with the Sam Maguire in their possession but Harry says Declan is content with his decision.
"When you're a good footballer, you have to keep playing and that's the only way you'll get better. He was playing well when he came into the Tyrone team but when you start getting subbed that naturally has an impact on your confidence. He was playing a bit here and there but that doesn't help anyone and you can understand why lads decide to go back to their clubs.
"He has no regrets, he thought long and hard about it when he left.
Would he go back again? It's hard to know, there'd be a lot for him to weigh up."
In summation, McClure has
more than done his bit for club and county. He thoroughly enjoyed his career and doesn't harbour too many regrets.
"I loved how things went from the club, things were up and they were down and we won a couple of championships. I remember missing a final because I was sent off in a semi-final against Pomeroy for a high tackle and that frustrated me as the lad was smaller and I didn't mean to. But other than that I enjoyed my career. Looking back on it, it was fleeting.
" It was over before I even knew about it. I wonder whether I could've played for longer but I was conscious I didn't want to hold anyone back."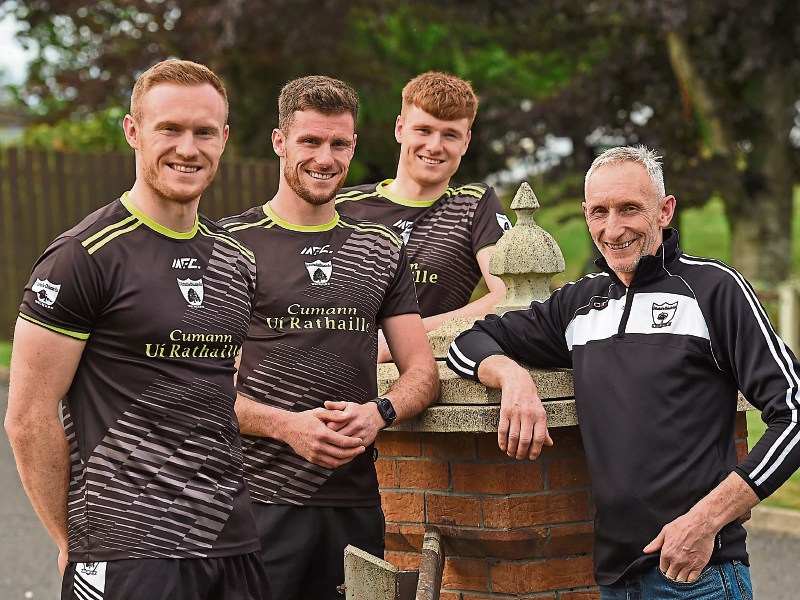 Receive quality journalism wherever you are, on any device. Keep up to date from the comfort of your own home with a digital subscription.
Any time | Any place | Anywhere
Posted: 10:00 am July 17, 2022