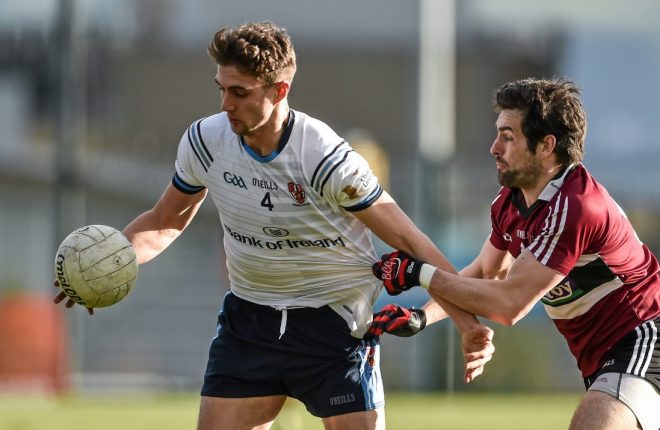 St Mary's McKenna Cup panel includes a number of county players which may be of interest to Fantasy Football managers looking for potential stars for the upcoming National League competition.
St John's Matthew Fitzpatrick made some telling contributions for Antrim last year, and he could increase his scoring returns in 2017, as Frankie Fitzsimons has intimated that the forward will get more game time.
Ciarán MacÍomhair has the potential to become a regular for Armagh, and he will be a regular for St Mary's at the McKenna cup.
Similarly, Crossmaglen's Oisin O'Neill is a big rangy player who can kick points from midfield.
Liatroim's Pearse Og McCrickard is a dual star for his club, but could make his mark for Down in the coming season.
Kevin McKernan is a regular for Down, but his fantasy value will depend on where Eamonn Burns decides to play him in  2017.
There are three Tyrone players worth pointing out on this team as all three are likely to feature in Mickey Harte's plans in 2017. They are Conor Meyler, Cathal McShane and Kiearan McGeary.
Towards the end of Derry's 2016 campaign, Niall Toner made some tellin contributions, and he could be a player with scoring potential.
2017 St Mary's McKenna Cup panel
Damien Ball CLG Chlann na nGael, TÍR EOGHAIN
Aaron Beattie CLG Naomh Eoin Bosco, An tIúr AONTROIM
Fionnan Burns CLG Chláirseacha Bhéal Átha an Airgid ARD MHACHA
Colm Byrne CLG Naomh Pádraig, An Eaglais TÍR EOGHAIN
Joseph Colton CLG Naomh Éanna, An Ómaigh TÍR EOGHAIN
Conor Convery CLG Watty Graham, An Gleann DOIRE
Ciaran Corrigan CLG Mhic Uidhir, An tIompú Deiseal FEAR MANACH
Matthew Fitzpatrick CLG Naomh Eoin, Béal Feirste AONTROIM
Jack Hannigan CLG Naomh Eoin, Béal Feirste AONTROIM
Darragh Kavanagh CLG Naomh Mac Cairthinn, Eochair TÍR EOGHAIN
Niall Kerr CLG an tSáirséalaigh, na Móinte Ard ARD MHACHA
Ciarán MacÍomhair CLG Na Piarsaigh Eanach Mor ARD MHACHA
Kyle Mallon CLG Naomh Moninne, Cill Shléibhe ARD MHACHA
Conall McCann CLG Naomh Muire, Coillidh Chlochair TÍR EOGHAIN
Diarmuid McConville CLG Raonaithe Chrois Mhic Lionnáin ARD MHACHA
Stephen McConville CLG Chluain Daimh AN DÚN
Pearse Og McCrickard CLG Fontenoy, Liatroim AN DÚN
Brian Og McGilligan CLG Naomh Muire, Beannchar DOIRE
Aaron McKay CLG Naomh Pádraig, Dromainn Tí ARD MHACHA
Brendan McKernan CLG Naomh Muire, An Bhoireann AN DÚN
Kevin McKernan CLG Naomh Muire, An Bhoireann AN DÚN
Ryan McNulty CLG Naomh Eoin, Béal Feirste AONTROIM
Cathal McShane CLG Eoghain Rua, Leic Phádraig TÍR EOGHAIN
Conor Meyler CLG Naomh Éanna, An Ómaigh TÍR EOGHAIN
Ruairi Mooney CLG Eoghain Rua, Cúil Raithin DOIRE
Aidan Nugent CLG Naomh Pádraig, Coilleach Eanach ARD MHACHA
Miceal O'Hare CLG Pheadair Naofa, Rinn Mhic Giolla Rua AN DÚN
Oisin O'Neill CLG Raonaithe Chrois Mhic Lionnáin ARD MHACHA
Cory Quinn CLG Dhroichead Mhaigh Eo AN DÚN
Marc Reid CLG Áth Bhriain AN DÚN
Patrick Sweeney CLG Sheáin Mistéil, An tIúr AN DÚN
Niall Toner CLG Chlann na hÉireann, Leamhaig DOIRE
Conor Johnson CLG Naomh Eoin, Béal Feirste AONTROIM
Kieran McGeary CLG na bPluincéad Cabhán an Chaorthainn TÍR EOGHAIN
Management Team:
Paddy Tally (Manager) CLG an Phiarsaigh, Gallbhaile TÍR EOGHAIN
Gavin McGilly CLG Na Piarsaigh Eanach Mor ARD MHACHA
Stephen Beattie CLG Emmet, Eiscreach TÍR EOGHAIN
Receive quality journalism wherever you are, on any device. Keep up to date from the comfort of your own home with a digital subscription.
Any time | Any place | Anywhere
Posted: 6:00 pm December 9, 2016