BRIAN McGuigan spent almost his entire inter-county career with Mickey Harte as his manager, and he says that the Ballygawley man shaped him not only as a footballer but as a person.
McGuigan was drafted into the Tyrone minor panel as 16-year-old, and he probably had no idea what lay ahead.
The Ardboe man won an All-Ireland Minor title in 1998, back-to-back All-Ireland U-21 titles in 2000 and 2001, and three Celtic Crosses during a glittering playing career.
Sean Cavanagh said on The Sunday Game that Harte had been 'lucky' to inherit such a special minor team, but McGuigan says that the now-former Tyrone manager is deserving of all the accolades thrown his way – and he messaged Harte on Saturday evening to let him know his appreciation.
"I think he was probably getting that many messages but he got back to me anyway. At the end of the day he was all I knew.
"He took me into the Tyrone minors when I was 16 and he was still there when I was finished. I thanked him, at the end of the day he shaped me not only as a footballer but as a person as well."
Harte also earned praise from the likes of Peter Canavan and Ronan McNamee for his help behind the scenes. The Tyrone team of the 'noughties' are effectively made men within the county, but McGuigan says it would've been a lot different had Harte not been there on the sidelines.
"A lot of people thought he was cold, but he was sincere and did help a lot of us. When I look at the Tyrone team I was part of, there were people who could've gone down different paths if it wasn't for him and we have to be appreciative of that.
"Maybe Sean's a bit more critical, but he knows where he'd have been without Mickey, and Mickey knows where we could've been without Sean. They're strong-minded men but we wouldn't have had the same success without the pair of them."
McGuigan felt that Harte got out at the right time before his legacy was tarnished, and he said his BBC punditry appearance for Sunday's Ulster Championship clash between Down and Cavan gave the watching audience a glimpse into why Harte was such a formidable operator behind the scenes.
"People saw why we backed him so much. Down the years I was often asked 'what was Mickey Harte like?', but even on his cameo appearance on the TV you can begin to grasp why we stood behind him.
"He's so infectious in the way he talks, he has you believing in yourself, believing in him and believing in the team.
"Bar one or two years with Art McRory and Eugene McKenna, Mickey was all I knew for 16 or 17 years, and they were great years.
"I'm glad he's got out now in a way that his legacy will be maintained. People throughout Ireland are appreciating what he's done."
The former Tyrone playmaker also believes that Harte meant it when he said on the BBC coverage that he genuinely didn't worry about what the critics said about him.
"He said he never listened to any of it and I think that'll annoy a lot of his critics. I think to be a county manager, or even a club manager, you can't take it personally if you're criticised. If you let those people get on top of you you're already a beaten docket."
McGuigan sees no reason why Tyrone can't continue to be competitive in the post-Harte era. There's a good blend of youth and experience in the team, and he also feels that Dublin's dominance won't last forever.
"There'll be a lot of pressure on the new man – as Peter Canavan said, Mickey's left us in a good place but we're also expected to do something big every year, and that didn't used to be the case. Now when we go down to Croke Park we're expecting to come back up the road with a win.
"The flipside to that is that there is great potential there with forwards like Conor McKenna, Darragh Canavan and Cathal McShane.
"It's an exciting time for Tyrone going forward, and whoever the new manager is should have a strong backroom as well.
"Peter Harte and Mattie Donnelly are getting to that sort of age where they're coming to the end of their careers and haven't got an All-Ireland, but maybe it's a good thing because it worked for us when we played with the likes of Canavan, Brian Dooher and Chris Lawn.
"There's a good blend and if you take Dublin out of the equation we're capable of beating anybody, and some of their main players have been leaving so they're probably not as strong as they once were."
By Niall Gatland 
Receive quality journalism wherever you are, on any device. Keep up to date from the comfort of your own home with a digital subscription.
Any time | Any place | Anywhere
Posted: 8:00 am November 22, 2020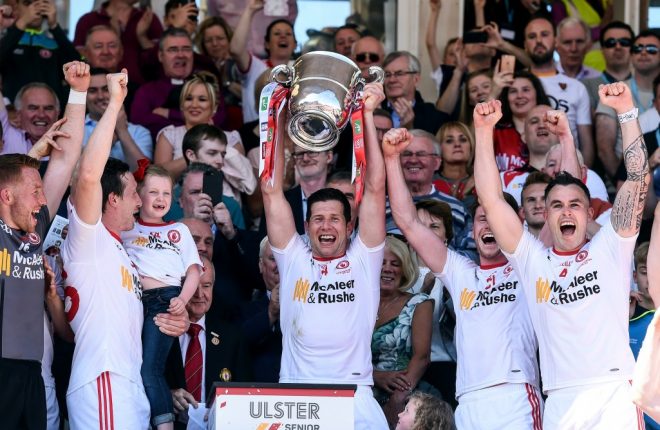 Tyrone may have won 15 Ulster titles in their history, but they celebrated yesterday's like it was the first.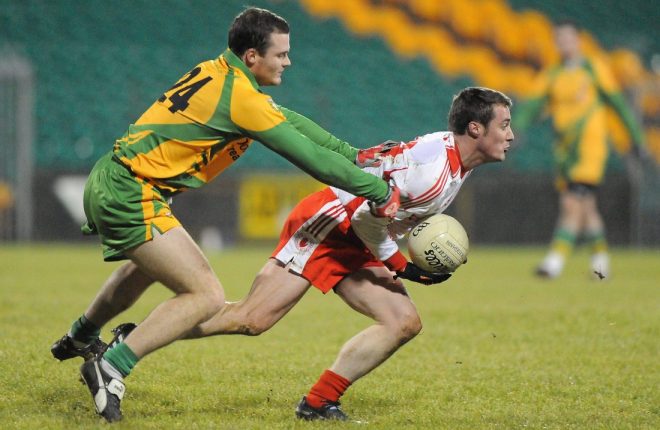 TYRONE legend Brian McGuigan believes that Donegal have overtaken his native county and now look most likely to prevail...
GAELIC Life columnist Brian McGuigan has taken a detailed look back at the highs and lows of his footballing...