Niall Gartland speaks to three of the protagonists from the celebrated Carrickmore side that won three Tyrone Senior Championship titles in a row in the late seventies.
ON Friday evening in the Patrician Hall, Carrickmore will honour their historic three in-a-row winning Senior Championship team from the years spanning 1977-1979.
Needless to say it was one heck of an achievement. These days teams find retaining the O'Neill Cup a bridge too far – winning three on the spin sounds like a pipe-dream altogether – so they're thoroughly and truly deserving of the red carpet treatment.
Carrickmore are only one of four clubs to have completed the three in-a-row in Tyrone. Omagh 1952-1954, Clonoe 1958-1960 and Ardboe 1971-1973 are the other trail-blazers, but no side has replicated the feat since Carmen maintained their grip on the O'Neill Cup with victory over Fintona in the 1979 final.
The late seventies was a hot and heavy period in the North for obvious reasons but the GAA was a very welcome distraction, not to mention a manifestation of the resilient nature of the nationalist community in Tyrone.
Record crowds attended what was then known as St Enda's Park in Omagh to witness Carrickmore overcome Dromore twice (in 1977 and 1978) and Fintona on the blue ribbon county final days.
And we've spoken to the respective man of the matches from this glorious period for the club for a retrospect in the lead up to their big night this Friday, namely Sean Daly (1977), Declan Quinn (1978) and Sean Gormley (1978).
They were three of the younger lads on the panel when Carmen embarked on their winning streak back in 1977 and their youthful exuberance blended beautifully with the more experienced heads on the panel.
Take Francis Martin – 1977 was his sixth county final; it was captain John Keenan's fourth; Fr Mickey Martin won a county medal as far back as 1961; Seamus Woods was already the club chairman, and so it goes on.
The pieces were in place and now history records for posterity their deserved status as one of the greatest and most accomplished Tyrone club teams of all time.
Sean Daly – Man of the Match in 1977 final
THE Ulster Herald preview piece for the 1977 Tyrone Senior Championship final between Carrickmore and Dromore states that "when the draw was announced early in the year, there were very few who expected either of Sunday's finalists to go the whole way." Hindsight is a wonderful thing, right? But Carrickmore showed what they were all about en route to the final, conceding 1-3, 1-4 and 1-5 in their three championship outings.
Their first-round victory over a celebrated Trillick side in particular was a real breakthrough moment – Trillick had been their 'bogey team' according to Sean Daly, whose brother Plunkett lined out in nets.
Confidence was sky-high leading into the final against Dromore and they surged into what looked like an unassailable lead, but they almost let it slip in the closing stages.
Carmen led by 0-11 to 0-2 with just 16 minutes remaining but Tommy Feddis pounced for a goal and it was helter skelter stuff until the final whistle with Dromore driving forward in waves.
Carrickmore, who were managed that year by the legendary Frankie Donnelly, held on for a one-point win and man of the match Sean Daly recognises that it could easily have turned out differently.
"We were probably expected to beat Dromore but it definitely wasn't straightforward. We dominated the first half and the third quarter and it looked like were home and dry, but Dromore came back at us and it left for a very tight finish.
"I remember they nearly got another goal near the end of the game but my brother Plunkett saved it. We dominated the game for about 50 minutes but we could've lost it, we just about managed to hang on."
The story didn't end there as Carrickmore embarked on a memorable Ulster Championship campaign. The competition was then in its embryonic stages but Frankie Donnelly's side threw the kitchen sink at it, and amazingly played five and-a-half hours of Ulster football without so much as reaching the final.
They overcame Ballybofey club Sean Mac Cumhaills in the preliminary round, but only after a replay. Subsequent to that, they overcame a very strong Lavey side in the quarters before eventually losing out in a semi-final replay after extra-time against Cavan Gaels. There was disappointment at missing out on a final berth but by the same token it was a special period for the club.
Daly said: "A great crowd followed us in Ulster that year. I remember there were people outside of Tyrone supporting us as well. It was a great time and maybe I didn't fully appreciate back then.
"We all had great craic together but we worked extremely hard as well, we trained from early on that year, you could've done 50 training sessions a year and we never missed any. Frankie (Donnelly) trained us in 1977, he was very good and really put us through our paces, he had us up to scratch. Brother Kelly and John Keenan were great as well, they were ahead of their time."
Reflecting on the magnitude of winning the three in-a-row, Daly acknowledges it took a mammoth effort to keep their rivals at bay throughout that period.
"I don't think anyone has done it since, and it's nice to look back on. Teams these days can't retain their title let alone win three, and it took a big effort on everyone's part as other teams were gunning for us.
"Other teams hoped to get the better of us in the final stages of those big games but we always managed to hold on. Those matches against Dromore and Fintona were very tight, but we'd an excellent defence, a strong midfield, good forwards. We had a good team but we also put in the work. It's history now but it's nice that people are still talking about it."
Declan Quinn – Man of the Match in 1978 final
CARRICKMORE achieved the elusive back-to-back for the first time in their illustrious history in 1978 with another victory over Dromore, this time on a scoreline of 1-6 to 0-4 with the game played in torrential conditions in Omagh.
They had a few hairy moments en route to the final, overcoming a formidable Augher side by a point in the last eight and needing a replay to get the better of Coalisland in the semis.
But that's the competitive nature of Tyrone club football and when all was said and done, Carrickmore had their name inscribed on the cup again. Man of the match in the final was Declan Quinn, who says that Carmen always directed their energies towards the championship.
"The league mattered in that it was important to preserve our status, and we're very proud of the fact we've never dropped out of Division One.
"But it was never our target at the start of the year, everything was geared towards the championship. We wanted to finish our year with the championship title and anything else was a bonus."
"We were confident enough heading in 1978 but we were always confident enough in ourselves anyway.
"I remember we beat Augher by a point in the quarter-final, they'd a great team with the McKennas and the Donnellys, we scraped through that game.
"We played Dromore in the final again and it was a dreadful day, it didn't make for a great game of football but we muddled through it and got the win."
Quinn pounced for a crucial goal early in the second half and it was always going to be difficult for Dromore to mount a comeback, such was the excellence of the Carrickmore defence.
"To be honest I remember very little about the game itself! I do remember the goal, all I could see was Barry Campbell running towards me. In those days you could flick the ball into the goal with your hand, I flicked it over his head and I was lucky enough it went in."
Quinn adds that the celebrations meant the world to all the supporters in the club, especially during the dark days of the Troubles.
"It was fantastic, they were troubled enough times and it was fantastic to have something light and joyous like that in your own community.
" The football was a great release, it gave everyone a focus away from everything else and pulled us all together."
"I remember seeing the children running around when you got back to Quinn's Corner or John's Height, you'd have sworn you'd have given the kids 100 pounds each, they were so happy and excited.
"I also remember the tour up around the town. You left the corner sober and when you came back, well you weren't sober.
"We drank whiskey out of the cup and it possibly cleaned with Brasso the night before – God only knows what concoctions were in it."
Paying tribute to his colleagues on the team, Quinn added: "But sure it was all great fun, and when you look back on it, what a team as well. When you looked up the field and saw Seamus Woods, John Keenan, Benny Haughey, Ed Fox, Peadar McCallan, and knew those boys were your teammates, it gave you a quare boost. You knew you weren't going to get trampled around the place as they always had your back."
Sean Gormley – Man of the Match in 1979 final
CARRICKMORE were well and truly in their pomp in 1979 but by no means did they get it all their own way against a Fintona side appearing in their first senior final in 41 years.
Carmen were absolutely rampant in their run to yet another final – they beat Augher by 11 points, Donaghmore by 12 and Coalisland by 15 without ever raising a gallop – but they were pushed right to the pin of their collar by a Fintona team just up from the Intermediate ranks.
Indeed, they trailed by two points at the interval even though they had the wind at their backs in the first half, so forward Sean Gormley knew they needed to up their game big time after the break.
"We were a well-established team at that stage and I suppose it surprised some people that Fintona had got to the final. Maybe we took the eye off the ball a fraction, we'd a very poor first half.
"I remember saying to the boys around me at half-time, 'we're going to need to come out and play like we've never played before' and I suppose we did – we dominated the second half but we just about got over the line, there was still nothing in it at the final whistle.
"Our midfield and defence were excellent when the game was there for the taking but in fairness Fintona had a very good team at the time, Sean McAlinney, Dessie Campbell, Seamus Toal, the McCanns were top players."
Gormley won the man of the match award for his performance, and he also finished as the Championship's top scorer with 2-16 to his name. That said, the 1973 All-Ireland minor winner with Tyrone was never that fussed about the personal accolades.
"1979 was a good year for me on a personal level but I never really thought about it much at the time. There's more hype now about man of the match awards.. You just went out and played your game as best you can, it was no big deal to me."
He continued: "It was just nice to be part of something with your own community.
"I remember that feeling of the crowd coming towards you after those wins and lifting you up and patting you on the back and congratulating you, then coming up around the town on the bus.
"I know it sounds simple but it was really special to be a part of, it was great for the club and nothing beats winning championships.
Sean's son Conor was born the following year in 1980 and has continued in the family tradition, winning four Tyrone Senior Championship titles.
Asked if they talk much about the halcyon days of the seventies, Gormley said: "Not too much to be honest, but Conor knows his history and the background to the club. He's part of that history too, in 25 years time he'll be able to look back and have the same memories."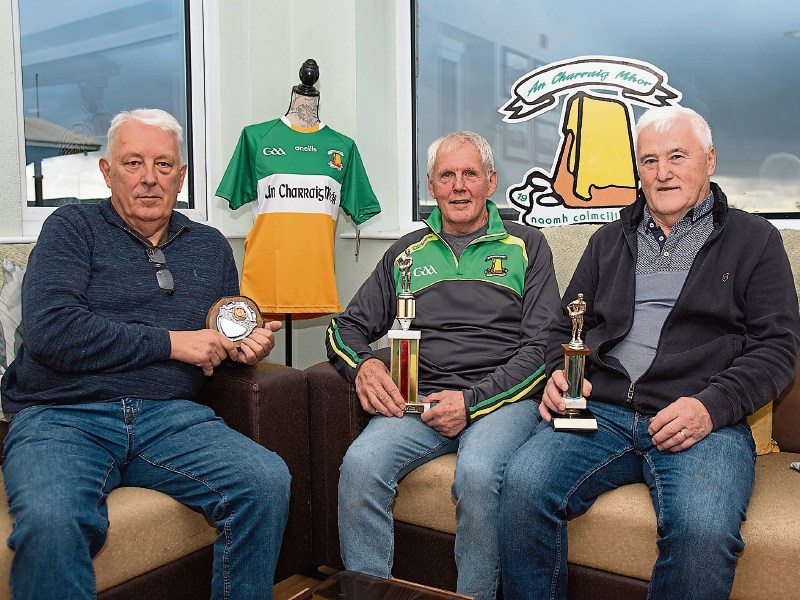 Receive quality journalism wherever you are, on any device. Keep up to date from the comfort of your own home with a digital subscription.
Any time | Any place | Anywhere
Posted: 7:00 pm November 17, 2023