By Ronan Scott
DERRY forward Danny Tallon has revealed that he used the period in lockdown to increase his muscle mass.
The Glen player said that he is one of a group of Derry footballers who are on a plan to get bigger and stronger. That means they are on special diet, and they also have tailored weight plans.
It has also meant that he couldn't run as much as his teammates in lockdown.
"There are a group of us who are trying to add a bit of size so we were half told not to run as much as everyone," Tallon said.
"It's a challenge (putting on muscle mass). But it is something that you need. You can't do too much running or you wouldn't be putting on any mass. I am up in weight. I could do with a bit more. I do not know how much of it is good weight.
"I presume that it will be good weight because of the work I am doing in the gym."
For the early period of the lockdown, Tallon felt that there probably wasn't going to be any football played this season. So he eased off his training.
"I slackened the running when it didn't look like there was going to be football. I only started going hard when I saw that there were going to be games. Then I picked the running back up.
I didn't want to be training hard the whole way through if there wasn't going to be anything on."
However, the news in the past weeks changed, and now both club and county action is back on. Derry's championship will start in August, and the inter-county season will be played in October and November.
Tallon said: "I feel that now it is feeling normal and there is something to train for. You know what is ahead of you."
He explained that during lockdown, his family were affected by the virus.
"My sister, she doesn't live with us. She lives in an assisted home in Ballymena. She is high risk, so we weren't able to go down and see her. Since then, as recent as last week, I was down for the first time. I was sitting outside. I wasn't allowed to go inside."
Yet now that things are easing, he feels comfortable about going back to training.
"I wouldn't say I am concerned. You just didn't know what was going to happen. There were a lot of opinions about what was going to happen. There was uncertainty.
"I have no real concerns as long as it is safe. I don't think that they would be pushing for it if it wasn't safe."
Tallon said that he's looking forward to the return to club action. He also said he's pleased with the Derry proposals of group stages that lead to a knockout section.
"I think the Derry proposal for fixtures is pretty good. They are doing a championship group stages. It gets everyone a minimum four games. Then it goes in to knock-out. It gives clubs enough time to get training in. I think they have done well.
"Fitting in county might be rushed."
r.scott@gaeliclife.com
Receive quality journalism wherever you are, on any device. Keep up to date from the comfort of your own home with a digital subscription.
Any time | Any place | Anywhere
Posted: 11:50 am June 28, 2020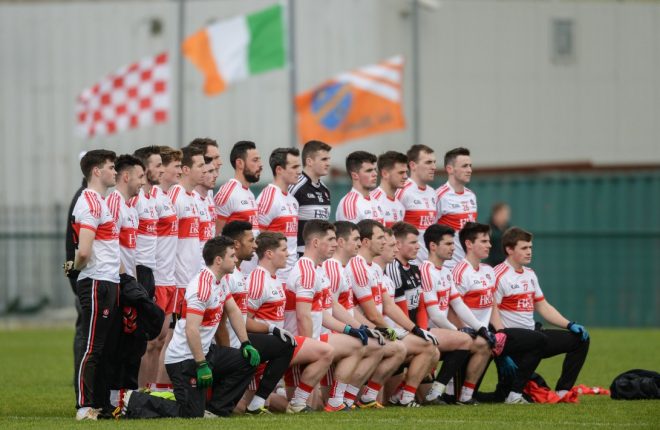 Some of the younger members of the Derry panel impressed on Sunday.